Jeff Phillips, Code Siren, LLC
28 August 2023 - Technology
Recently, there has been a growing trend of individuals and small businesses self-hosting their data services. This is due to several factors, including the increasing affordability of hardware, the growing availability of low-cost or nearly free software, and the desire for more control over one's data (i.e., data sovereignty).
If you are considering self-hosting, there are some factors you need to consider, such as your budget, your needs, and your technical skills. However, many great self-hosting hardware options are available, so you can find one that is right for you.
Here are two of the latest and greatest self-hosting hardware options for individuals and small businesses:
The Intel NUC Family
The newest NUC 13 is the latest generation of Intel's Next Unit of Computing (NUC) small form-factor (SFF) PCs. 13th Gen Intel Core processors power the NUCs and offer a range of features and options to meet the needs of different users.
The NUC 13 is available in two main models: the NUC 13 Pro Desk Edition and the NUC 13 Pro. The NUC 13 Pro Desk Edition is in a high-quality plastic white/silverish housing designed for sitting pretty next to your monitor on the desktop. At the same time, the NUC 13 Pro seems more suited for a small business or technical team with its black housing. Both models feature a 4x4 form factor, which means they are only 4 inches wide and 4 inches deep. This makes them very compact and easy to take with you on the go.
The Intel NUCs are also very energy-efficient. It consumes a fraction of the power of traditional desktop PCs. This makes it a great option for self-hosting, as you can save money on your energy bills.
The Intel NUC is also very quiet. It has a fanless design, so it does not make any noise. This makes it a great option for self-hosting, as you do not have to worry about the noise disturbing you or your neighbors.
Both units come preloaded with Windows 11 Pro, but you can load Linux straight off a USB stick.
The Intel NUC 13 Pro Desk Edition also uses the same small form factor housing the computer in black and powered by the same 13th Gen Intel Core i7 or i5 processor. It has up to 12 cores and 24 threads and can be configured with up to 64GB of DDR4-3200 memory. The NUC 13 Pro Desk Edition also has a variety of ports, including two Thunderbolt 4 ports, two HDMI 2.1 ports, two USB 4 ports, and one USB 3.2 port.
The NUC 13 Pro is powered by an Intel Core i7-1360P processor with 12 cores and 16 threads. It also supports up to 64GB of DDR4-3200 memory and up to 2TB of PCIe Gen 4 storage. This makes it a versatile machine that can be used for various tasks, including business, productivity, and hosting a Polynom server.
The NUC 13 Pro Desk Edition is now available at $517.00. The NUC 13 Pro starts at $317, and both are expandable up to $1,000.
The Pro Desk Edition is only available in the United States, Canada, and Europe.
NUC 13 Pro and Pro Desk Edition Specifications:
- 2 x SODIMM slots for up to 64GB of DDR4-3200 memory
- 1x M.2 2280 slot for PCIe Gen 4 x4 SSD
- 1 x M.2 2242 slot for PCIe x1 Gen 3 SSD
- 2 x Thunderbolt 4 ports
- 3 x USB 3.2 Gen 2 Type-A ports
- 1 x USB 2.0 Type-A port
- 2 x HDMI 2.1 ports
- 1 x 2.5 GbE Ethernet port (Intel i226-LM)
- 1 x 3.5mm audio jack
- Weight: 0.68 kg
Both units share the same specifications:
- Processor: Intel Core i5-1135G7 or i7-1165G7
- Memory: Up to 64GB DDR4-3200
- Storage: Up to 2TB PCIe NVMe SSD
- Graphics: Intel Iris Xe Graphics
- Networking: Gigabit Ethernet, Wi-Fi 6 AX201
- I/O: 2x Thunderbolt 4, 2x USB 3.2, HDMI, DP, SD card reader
- Dimensions: 117 x 46 x 112 mm
- Weight: 0.68 kg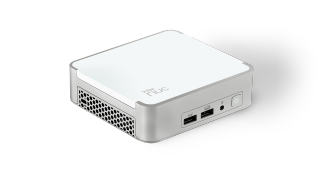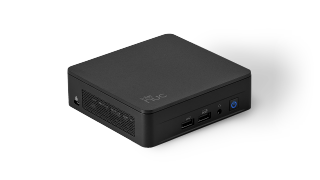 Self-hosting can be a great way to take control of your data and privacy. It can also be a fun and rewarding project. Many resources are available online if you want to learn more about self-hosting.
Here are some final tips for self-hosting:
1) Don't try to self-host everything all at once. Start with a simple project, such as a Polynom™ server.
2) Use a stable operating system like Linux.
3) Keep your software up to date to protect yourself from security vulnerabilities.
4) Back up your data regularly. This is especially important if you're self-hosting critical data.
I hope this is helpful!
Code Siren, LLC does not endorse any products or technologies mentioned in this article. We are not affiliated with Intel Corporation or retailers of these products. We receive no remuneration for mentioning these self-hosting solutions. The information in this blog post is for informational purposes only and should not be taken as a recommendation to purchase any particular product or technology.